dairago.com
Informazioni on line su politica, cultura, sport, tempo libero a Dairago e dintorni.
Dairago

Dairago è un paese di 6332 abitanti (3107 uomini, 3225 donne, fonte ISTAT 1 Gennaio 2021) situato in provincia di Milano, a 32 km dal capoluogo, nell'alta pianura al limite con la provincia di Varese, in un territorio ancora in parte coperto da boschi, non lontano dai fiumi Olona (che scorre a 5 km a levante) e Ticino (distante 10 km a ponente). Il comune ha l'estensione di 5,63 Km2; confina a nord con Bienate (Comune di Magnago), Borsano (Comune di Busto Arsizio) e Legnano; ad est con Villa Cortese; a sud con Busto Garolfo, Olcella (Comune di Busto Garolfo) e Arconate; ad ovest con Buscate. Le coordinate geografiche del Municipio dairaghese sono: latitudine 45°34'12" Nord, longitudine 8°51'59" Est, Altitudine 196 m sul livello del mare.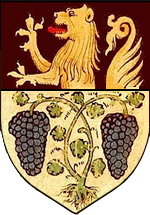 Daiåghu (lo dizi u ISTAT, prüm da genaiü dömila vintün) le 'n paézi kun sesmila trasent trεnta dü parsonn (3107 öm, 3225 dön) k'al sa tröa in pruencia da Milan, distanti trεntadü kilometri dul Dom, in ko daa pianüa 'pena sotu i prüm muntezi, a rεnti a pruencia da Varezi, 'na tera kunt un po' da buski k'a lo kuεrtan ankamó, nu dazluntan da dü füm: u Ulona (k'al kuri cin kilometri in våza düé gha nåsi ul so) e ul Tizen (dez kilometri in våza düé gha kåla 'l so). Ul kumön le dastandüü dasüevía cen kilometri kuådar e sesantatrí; a tramuntåna al toka Bianå (kumön da Magnåghu), Burtsan (kumön da Büsti) e Lignan; in våza matina kunt Vila Kurtezi; in våsa a mizdí kun Bispíkual, Cεla (kumön da Bispíkual) e 'l Kunå; in våza a sia, kun Büskåå. I 'nkruzamεnti giughråfici dul Municipi da Daiåghu a inn: par in lårghu 45°34'12" tramuntåna; pa'n longhu 8°51'59" matina. Vultetsa 196 metar dasuevía dul mår (w.ce).

Dairago is a municipality of 6331 people (3107 male, 3225 female, source ISTAT 1 january 2021) situated in province of Milan, 32 km far from Milan, in the high plain to the limit with the province of Varese, in a territory partly still covered by woods, not far from Olona river (5 km eastwards) and Ticino river (10 km westwards). The municipality has the extension of 5,63 Km2; it borders northerly on Bienate (municipality of Magnago), Borsano (city of Busto Arsizio) and Legnano; easterly on Villa Cortese; southerly on Busto Garolfo, Olcella (municipality of Busto Garolfo) and Arconate; westerly on Buscate.
The geographic coordinates of the Town hall are: latitude 4534' 12" North, longitude 851' 59" East, altitude 196 m. on the sea level.